One of their most effective arguments, as they fought the Obama monument, was the idea that its designation was more a marketing tool than an effort to protect the pristine beauty of area–that its purpose was a promotional hook to re-define San Juan County and, in effect, create another Moab…
Jim Stiles
A "MONUMENTAL" CHANGE: San Juan County Government Embraces Industrial Tourism…by Jim Stiles
What's happening here is happening elsewhere. And what's coming may be bigger than even we doomsayers would dare predict. Barring a miracle, we are about to enter a new phase, the last phase, in the taming of the West. When it's over it won't be "the West" anymore. We all know "how the West was won." What we are about to see is "how the West was done." To use a recently popular expression, pretty soon, you can stick a fork in it. And all of us, no matter how much we love the country, bear responsibility.

From "New West Blues," by Jim Stiles, 1991
About five years ago, I wrote a cautionary tale called, "Moab is Assimilated. Bike Borg Moves South…Is Resistance Futile in San Juan County?" Then and now, the story has generated both positive and negative reviews. Some think of the account as the canary in the coal mine…a portent of things to come. Others aren't so generous. When I recently re-posted it, one perennial Zephyr critic complained, "How about not resorting to sensationalism and crying wolf? No need for all of the 'The sky is falling' alarmism that the Zephyr is currently promoting."
Another reader was a bit gentler, noting that it wasn't the national park/monument designation by itself that was generating the madness that is Moab, he observed that it takes promotion, marketing, and infrastructure growth. "San Juan County is a dry county it's (a) religious County," he explained. "Keep it that way and they won't come."
I couldn't have agreed more. But is San Juan County really safe from a Moab Future? As we've reported before, Bluff has already moved in that direction and has aligned itself with a recreation/tourist-based economy, even recruiting the financial support of outdoor industry giants like Patagonia and North Face to help make it happen.
But the more conservative communities to the north–Monticello and Blanding– have predominantly resisted such a transformation. One of their most effective arguments, as they fought the Obama monument, was the idea that its designation was more a marketing tool than an effort to protect the pristine beauty of area–that its purpose was a promotional hook to re-define San Juan County and, in effect, create another Moab. The County's residents have said no…so far.
So…just like the 2014 "Bike Borg" story, or last month's article about proposed new bike trails, consider this a cautionary tale as well. The sky hasn't fallen. San Juan County still bears little resemblance to that town up north. But I've seen all this before. It won't happen overnight, but it would be wise to pay attention and be prepared.
"Objects in the Future May be Closer than They Appear."
THEN…"MAKE IT MONUMENTAL"
In August, a front page story in the local weekly took many residents—and me— by surprise. The article described the launch of "a redesign campaign of its brand to highlight the area as the entry point for nature-loving adventures and great scenery."
The new campaign includes a new tagline— "Make it Monumental." Natalie Randall, San Juan County's director of Economic development and Visitor Services, explained that "the revamp is the next logical step as the county capitalizes on the increased interest in the area. The county wants to promote the region as a less crowded entry point to one of the most photographed places on the planet."
The announcement came as a shock to many San Juan residents. At least a couple thousand of them sport brightly colored stickers on their cars and trucks that read: #NOMONUMENT, a very prolific and visible reference to the strong opposition that was expressed by many San Juan citizens when President Obama first proclaimed Bears Ears National Monument in the last weeks of his administration.
On social media, via conservative-leaning facebook pages that had opposed the original proclamation, opposition to the new "Monumental" promotion was just as swift and pronounced. One comment summed up the feelings of many when he wrote that, "Selling the message 'come here to get away from the crowds' is stupid on its face. If the branding message succeeds the core message of the brand becomes a lie."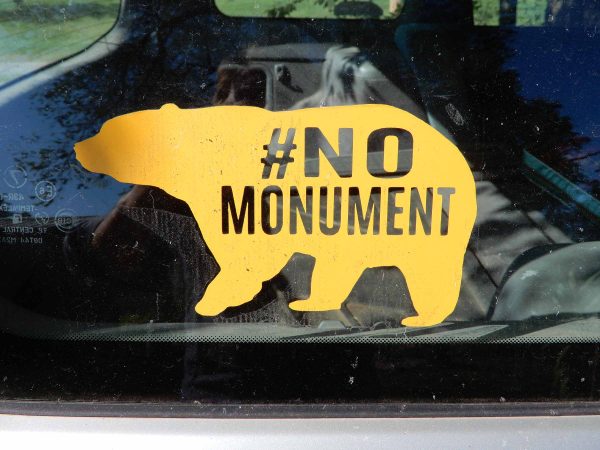 Most San Juan County residents directed their fury at the county's recently appointed (2017) Economic Development Director, Natalie Randall. It was Randall who announced the plan in the San Juan Record the previous week.

Conservative writer Marjorie Haun posted an article that raised concerns of a possible conflict of interest. Haun reported that Randall was the county's economic development director, but also the owner of a recreation-based private company as well. And she wrote that:
"All local governments need to maintain a wide ethical line between policy formulation and things that personally and directly benefit the policy makers…San Juan County citizens are right to ask about whether or not she should have dual roles as economic development director (with a strong emphasis on outdoor recreation) while being the owner of an outdoor recreation company that is sure to profit from the PR campaigns and pro-tourism policies she is formulating."

But county commissioner Phil Lyman came to Randall's defense, writing that, "Natalie is an outstanding economic development director!…The county was well aware of Natalie's ties to the biking tourism business when we hired her. Having an interest is not the same thing as having a conflict of interest."

And while he cited his past opposition to a variety of taxes that he thought were unjust, Lyman added, "…we simply have to participate in some of these programs. It would be doing a huge disservice to county residents to boycott participation, given that huge sums of revenue are flowing from our local businesses to the State."
Some argue that while tourist promotion grants indeed represent "huge sums of revenue," the county's fervent opposition to the marketing and promotional efforts of the outdoor industry and mainstream environmentalists makes the acceptance of that kind of money unseemly. One critic observed, "It would be like somebody donating a huge sum of money to SUWA, and then saying, BUT you can only spend it on coal mines…and then SUWA takes the money anyway, and spends it on coal!"
Former Grand County Councilman Lynn Jackson offered his own views on the promotional campaign. Jackson, a conservative, has long advocated for a diverse economy in southeast Utah and takes a dim view of a monolithic Industrial Recreation economy in Moab. He wrote:
"It's all rather confusing to me. San Juan doesn't want to become another Moab, yet they are following the exact blueprint that got Moab on its path to progressive nirvana. Welcoming and supporting outdoor environmental education programs and investments, providing support for building mountain bike trails, hiring an economic development coordinator with deep ties to the megalithic outdoor recreation industry, and creating a tourism slogan that's over the top, in this case ridiculously over the top. "Make it Monumental" is just hard to figure, sending the message you're all good with monuments down there, in light of what's gone in the last 18 months? San Juan, looks like you're well on your way, following the recipe exactly."
---
Thank you for reading our latest report, but before you go…
Our loyalty is to the truth and to YOU, our readers!
We respect your reading experience, and have
refrained from putting up a paywall and obnoxious advertisements, which means that we get by on small donations from people like you. We're not asking for much, but any amount that you can give goes a long way to securing a better future for the people who make America great.
[paypal_donation_button]
For as little as $1 you can support Free Range Report, and it takes only a moment.