Davis said the students responsible have been identified, but instead of punishment, the school has chosen to use the incident as a learning experience, and also a way to make amends.
Defacing occurred on college-led trip
A group of Fort Lewis College students defaced ancient Native American ruins in the Comb Ridge area near Bluff, Utah, while on an outdoor retreat in October.
According to FLC spokesman Mitch Davis, the incident occurred on a Fort Lewis College Outdoor Pursuits overnight "yoga in the backcountry" trip Oct. 14 to Oct. 16.
He said campus authorities were made aware of the incident on Monday when photos of the vandalism surfaced on social media.
The photos clearly show students had written in black charcoal "Fort Lewis College OP 2016" on the rock wall of the Fish Mouth Cave in the Butler Wash area that parallels the eastern flanks of Comb Ridge. The rock wall is lined with a mess of graffiti, some of it dating to the early 1900s.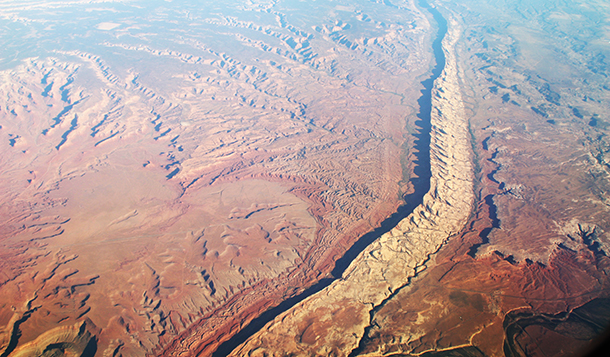 "It's a popular spot to write your name, but that doesn't make it right," Davis said. "Our students know better than that."
On its Facebook page, the Fort Lewis College Outdoor Pursuits program, which has existed for nearly 40 years, said the group is investigating the incident.
"Such incidents are not tolerated on Outdoor Pursuits trips and are not a normal practice when visiting and traveling in the terrain in which the program operates," the post said. "OP understands the seriousness of the vandalism and will continue to educate its participants with regards to being culturally and environmentally aware."
Davis said all Outdoor Pursuit trips, which consist of about 10 students, are supervised by "student leaders" who go through an apprenticeship program before becoming qualified to lead an outdoor retreat.
"In the 40 years that Outdoor Pursuits has been going on, we were not aware of anything like this happening before," Davis said. "It was a mistake, unacceptable."
Davis said the students responsible have been identified, but instead of punishment, the school has chosen to use the incident as a learning experience, and also a way to make amends.
He said FLC has reached out to the Bureau of Land Management in an effort to begin a project that would not only fix the damage by FLC students, but also the litany of other graffiti at the site.
"There are situations where punishments are warranted, but in this case, we think it'd be a more positive experience if we use it as a way to teach and a way to provide service," Davis said. "If we can help our students better understand why those culturally sensitive sites are so important, and at the same time help restore it, we think that's the best course of action."
The BLM office in Monticello, Utah, said it is investigating the incident and declined to comment.
Under the Archaeological Resource Protection Act, first-time violators are subject to civil or criminal penalties up to a $250,000 fine or a five-year prison term, or both.
Fish Mouth Cave is an opening on the eastern side of Comb Ridge that resembles a fish mouth. There's very little archaeology left in the cave itself, after extensive looting at the turn of the 20th century, yet it remains a culturally significant site.
The cave would be part of the proposed 1.9 million acres Bears Ears National Monument, which Dave Welz, associate director of communications for Conservation Lands Foundation, said if designated, would help better protect cultural resources.
"We are disappointed to see an act like this coming from students here in Durango – which is also CLF's home base," Welz said. "And it underscores the need for more protection and education in the Bears Ears region.
"The Bears Ears Inter-Tribal Coalition has worked hard – and we support their efforts – to get Bears Ears designated as a national monument in part because of the additional opportunities for protection and education that it would bring."
Jonathan Romeo
In April of 2015 the Associated Students of Fort Lewis College submitted a resolution calling for the federal designation of the Bears Ears as a national monument.
The irony is strong with this one.
Free Range Report