The Bundy brothers and their friends, including radio host Pete Santilli and a number of women, became known as 'domestic terrorists,' 'welfare ranchers,' 'armed militants,' 'armed occupiers,' 'an armed militia,' 'sovereign citizens,' 'anti-government extremists,' and worse, having been defined by vicious enemies who themselves incited a form of media terrorism against the protesters.
The definition of 'terrorism' is up for grabs on Election Day
Boldly defining terrorism and identifying its sources have been central to Donald Trump's presidential campaign, setting him apart from his equivocating opponents on both sides of the political aisle. He has been clear and consistent about the identity of terrorists and the nature of terrorism, and has repeatedly put both President Obama and Hillary Clinton on the spot by challenging them to say the words "Radical Islamic Terrorism."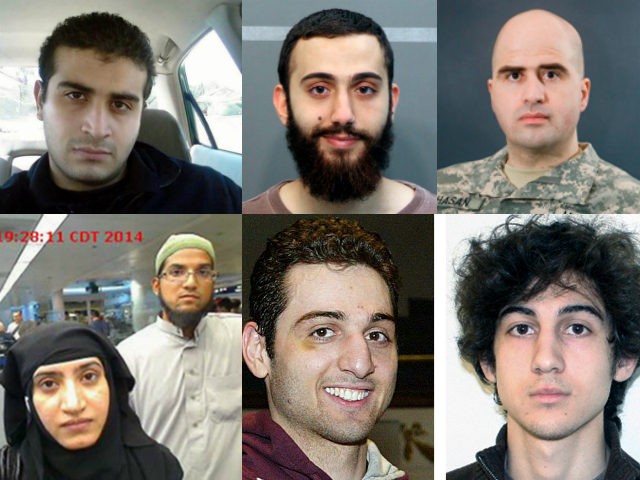 Trump's pronouncements concerning threats to the Homeland from terrorists and terrorist organizations have resonated with the vast majority of Americans. Nevertheless, the federal government and its agencies charged with identifying terrorist threats and protecting the Homeland, define 'terrorism' very differently than Donald Trump. And like Obama and Clinton, the FBI, Homeland Security, and other agencies under the Administration are relatively quiet about threats from Islamic Jihadists.
Oregon standoff
The acquittal last week of all defendants in the Oregon standoff case, most notably Ammon Bundy and his brother Ryan, dealt a blow to one of the most successful gimmicks used by Leftists against western property rights, independent ranching, and the Second Amendment; the fiction that ranchers and others who protested at the Malheur Refuge last January, are dangerous 'domestic terrorists.' From the time the Bundy brothers and their associates arrived in Harney County to protest the imprisonment of Dwight and Steven Hammond on federal terrorism charges, extreme green groups and other hard-left combinations mobilized teams of character assassins—many of them paid–to destroy the ranchers by aggressively trolling news articles and social media, and publishing damning op-eds in news outlets across the country.
The Bundy brothers and their friends, including radio host Pete Santilli and a number of women, became known as 'domestic terrorists,' 'welfare ranchers,' 'armed militants,' 'armed occupiers,' 'an armed militia,' 'sovereign citizens,' 'anti-government extremists,' and worse, having been defined by vicious enemies who themselves incited a form of media terrorism against the protesters.
Those who smeared the Oregon standoff protesters didn't invent the notion that ranchers, rural westerners, land owners, property-rights advocates, and all others who have found themselves in conflict with federal agencies, are 'domestic terrorists.' Confusing, inflammatory and misleading definitions have been formulated in the highest offices of the federal government.
This is how the FBI defines domestic 'terror' groups:
What They Believe: A militia is a group of citizens who come together to protect the country, usually during an emergency. Some militia extremists, however, seek to violently attack or overthrow the U.S. government. Often calling themselves "patriots," they believe the government has become corrupt, has overstepped its constitutional limits, or has not been able to protect the country against global dangers.
Sovereign citizens are anti-government extremists who believe that even though they physically reside in this country, they are separate or "sovereign" from the United States. As a result, they believe they don't have to answer to any government authority, including courts, taxing entities, motor vehicle departments, or law enforcement. Sovereign citizens are often confused with extremists from the militia movement. But while sovereign citizens sometimes use or buy illegal weapons, guns are secondary to their anti-government, anti-tax beliefs. On the other hand, guns and paramilitary training are paramount to militia groups.
Sovereign citizens do not represent an anarchist group, nor are they a militia, although they sometimes use or buy illegal weapons. Rather, they operate as individuals without established leadership and only come together in loosely affiliated groups to train, help each other with paperwork, or socialize and talk about their ideology. They may refer to themselves as "constitutionalists" or "freemen," which is not necessarily a connection to a specific group, but, rather, an indication that they are free from government control.
The Oregon protesters did not belong to a 'sovereign citizens' group, nor were they of a singular ideology or religion. Nevertheless, media painted them using such labels, and effectively demonized them in the public eye. It was not until the protesters were acquitted by a Portland jury, which saw all the evidence—and lack thereof—that it became clear they were neither terrorists nor conspirators.
Jeanette Finicum
On January 26, LaVoy Finicum, the informal spokesman for the Oregon protesters, was shot and killed by law-enforcement agents when his truck was forced off the road while he and several passengers where on the way to a citizens' meeting in Burns, Oregon. Both the legality of the roadblock and the killing of Finicum have been the subject of intense, ongoing scrutiny. But one fact remains clear; when Finicum was killed he left behind his widow, Jeanette, a large family, and a vast Arizona ranch, which is now run by his widow and children.
A month following Finicum's killing, friends of the Finicum family in Delta, Colorado hosted a vigil to remember LaVoy and honor his family. On March 5 they held a peaceful rally at the Federal Courthouse in nearby Grand Junction, Colorado. Subsequently the group decided to hold a fundraiser for Jeanette Finicum and her children.
Apparently the friends and associates of the Finicum Family caught the eye of local officials who, without positive evidence, labeled the group 'sovereign citizens.' And on June 28, 2016, the Delta, Colorado City Manager, David, Torgler issued a memo stating:
To all:

Please be advised that the Delta PD was informed that there will be a group of sovereign citizens meeting at the Fireside Restaurant located in Delta on Wednesday July 6th, 2016 at 18:30 hours. They will be here doing a fundraiser for the sovereign citizen who was shot and killed in the Oregon standoff. It has been reported that among the people attending will be the sovereign citizens' wife who was shot and killed.

[REDACTED]

David Torgler

City Manager

City of Delta360 Main Street

Delta, CO  81416
The folks involved in the fundraiser did not identify themselves as 'sovereign citizens' or anything else. Their common interests were in the welfare of Finicum's widow and children. Some of the organizers were known to discuss grazing rights, property rights, and how to legally address instances of federal overreach in the West, but no evidence existed that any were domestic terrorists or had intentions to use terror tactics.
Media/Administration Bias
When comparing and contrasting the activities of the Oregon protesters, who were called 'domestic terrorists,' with those of the Dakota Access Pipeline (DAPL) protesters in North Dakota, the media bias, as well as official bias, favoring protesters on the Left becomes plain.
The Oregon standoff protesters were primarily ranchers. They exercised their Second Amendment rights to keep and bear arms, and did so peacefully and without incident. They publically cited the Constitution and discussed the legal bases for their protests. They camped on public property—an abandoned building at the Malheur Wildlife Refuge–and did not actively participate in property destruction or vandalism of any sort. They spoke openly with the press and welcomed journalists to interview them and take their statements. Following the killing of LaVoy Finicum, most of the protesters voluntarily left the refuge, and submitted peacefully to the authorities who then arrested and imprisoned them. Their characters were savaged in media. They and their families endured harassment and death threats. And with the news of their acquittals, media and extremist operative 'trolls' have again ramped up the assaults against the Bundys and their co-defendants.
The DAPL protesters have been camped out on private property for nearly three months. Although some are from the Standing Rock Sioux Reservation, most are from other states with no connection to the local tribes. Most are white. The protesters have been hostile to journalists they deem unfriendly. There have been objects thrown and bullets fired by the protesters. Vehicles, construction equipment and materials have been vandalized and set ablaze, and locals have been intimidated by them. The DAPL protesters are trespassing on private property, and their efforts are geared toward stopping private development of resources on private land. By and large, media portray the DAPL protesters as victims of corporate greed, and heroes fighting for the environment. There is no widespread social media campaign to demonize the DAPL protesters. Nowhere in any major news outlets have the DAPL protesters been called 'domestic terrorists' or 'anti-government extremists.' And many of the same social media warriors who have worked to smear and destroy the Oregon standoff protesters, praise and defend the DAPL activists.
Most Americans, especially those in the West, who are as concerned about the culture of government as they are about policy, understand what's at stake next Tuesday. "Terrorism" is a defining issue of our time, and the way our leaders identify and address it will shape our lives well into the future. America cannot countenance a culture of government that labels Americans who disagree with its activities as 'terrorists,' while actual terrorists are praised, mollified, or ignored.
Free Range Report